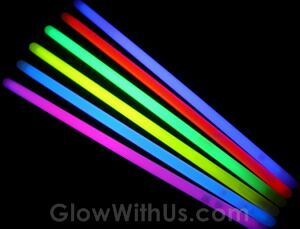 We saw a costume running down the sidewalk in our neighborhood several years ago and the awesome effect it created is still etched in our memory. Two teenage boys wore the same costume with different colors so the effect was funny AND cool at the same time. DON'T use reflective tape if you wish to make an impact…glow sticks are way cooler looking!
Become a WALKING GLOW STICK MAN with these easy steps:
Wear black leotards or tight-fitting black pants with a black turtle-neck shirt with long sleeves and black shoes and socks.
    Buy 8 to 10 packages of 12″ (or longer) GLOW IN THE DARK NECKLACES ($1 each at most Target stores in the dollar bins in front area of the store) or buy them online at a vendor. Wear

one color

of glow sticks for best results.
Open each package and activate the "glow" factor following directions (massage each glow stick)
  This form shows JUST ONE idea for laying out glow sticks…use your imagination!
 Lay shirt and pants on a table or counter before you get dressed and place the glow sticks on top of your shirt and pants in a pattern to make a stick figure. Using a shirt and pants that you don't mind getting rid of:

Stretch each glow stick out and hot glue (OR use fabric glue, allowing time for it to dry before wearing) a glow stick to each top part and bottom part of the arm of the shirt and down the front center of the shirt.
Hot glue a stretched out glow stick from the top thigh part of pants to reach down toward the top of the knee.
Also glue a stretched out glow stick from BELOW the knee-bend toward the ankle.
Place a dark baseball cap on your head and assemble a glow in the dark necklace to hang from the top of the brim of the hat and hot glue it in place. The necklace will hang in front of your face and swing a little bit as you move.
You are now a glow-in-the dark stick figure!
You gotta see it to believe how cool this looks.
Please send us a photo if you go with this costume idea and we will post it on this site!
Share this: Twitter | StumbleUpon | Facebook | Delicious | digg | reddit | eMail